Work Smart and Achieve More
Virtual Assistant & Marketing Services
Creating valuable time to help you grow your business
Free up your time and delegate to me
Hello! I am Victoria, a UK based virtual assistant and freelance marketing professional.  As well as freelance office support I am also a jargon-free marketing strategist helping businesses get better results from their marketing efforts.  From call answering and diary management to competitor research, report writing,  and sales team support – the list is endless.  For many clients, I am a Social Media Manager and a Facebook Advertising Strategist.
I provide services nationwide and can meet you over Skype/Zoom to discuss your requirements.  For clients requiring face-to-face meetings then I can meet anywhere in the following areas: Worksop, Retford, Gainsborough, Newark, Mansfield, Sheffield, Doncaster, Chesterfield, Rotherham, Lincoln and Nottingham.
A Virtual Assistant (AKA a VA or a Virtual PA) enables you to concentrate on your business's growth or create time to focus on your own wellbeing.   Contact me today to discuss how a virtual assistant can help you create valuable time.
How can I help?
I have extensive experience in marketing, customer service, project management and office administration - so there is a lot I can help you with.

I offer a flexible approach for my clients.

You may want fixed monthly support so that you know that your business critical but non productive tasks are carried out; or you may just have an ad hoc project that has a defined end date.

I can tailor my service to meet your needs. Book a free Discovery Call and find out more.
Free Discovery Consultation
I offer a free 30 minute face-to-face or phone/skype/Zoom consultation to discuss your business and how I could help you. I am flexible in my approach and can offer ad hoc projects or commit to a more formal retainer so you can be assured that your important administration or marketing tasks are always taken care of.
What can a Virtual Assistant do?
There is no end to the number of ways in which a virtual assistant can help you or your business.  My specialism is marketing however, I do also offer more traditional admin support such as email management, diary management or team support.    

Social Media
Daily management of all Social Media platforms to increase your brand awareness, drive traffic to your shop or website and increase sales.

Call Handling
I offer remote call answering so that you never miss an important call again. I can also make out-bound calls to promote your business.

Marketing Support
From social media management or arranging your promotional goods, I can take on as little or as much of your marketing activity as you need.

Team Support
I offer workforce co-ordination; diary management, collating information and creation of presentations to support your team.

Office Administration
I can be on site or work remotely to assist you with any admin duties, such as; filling, report writing, writing up notes or updating your database.

SEO Support
Without good SEO your potential customers can't find you on Google. I can refresh your web copy, create blog posts and review your keywords.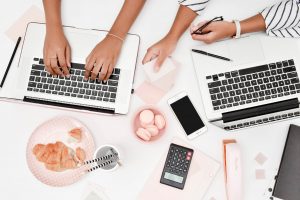 I recently gave this presentation at a networking event in Nottinghamshire.  As a Virtual Assistant, I hoped that my 5 easy ways to boost productivity...
Read More
Sign up to my newsletter here
Benefits of Using a Virtual Assistant
There are many reasons why you would hire a Virtual Assistant.  Many virtual assistants us as the perfect solution to ensuring that you have flexible business administration support when you need it, without the commitment of taking on an employee.  Here are a few more reasons as to why Virtual Assistants are awesome.
I am not an employee – you don't have the overheads associated with being an employer (desks, equipment, pensions, holiday & sick pay, redundancy pay, training & development)
Reduce the risk in scaling up your business operation – I can fill in the work gaps until you are sure you can afford a permanent member of staff
Increased flexibility – you can hire me for as few or many hours as you need.  You  can put my services on hold – which is not always possible with an employee
Hire the skills you need when you need it – because I have lots of experience in different office environments, I have the tools to operate efficiently and effectively
 Increased Productivity – because you are my client my number one priority is making sure you are happy, completing the tasks you have hired me for and making your life easier.  If you are not happy you won't hire me again – simple! 
Free up your time – I can do all of the jobs you don't like doing or never do because they take up so much of your time – following up sales leads, organising your in box, writing your website, asking customers for testimonials, creating a blog, posting to Facebook – the list is endless and I can DO IT FOR YOU
Hire a Virtual Assistant and Create Time
Time is valuable and when you are short of time it can have a dramatic impact on your long term well being. I can work with you to identify those tasks that can be outsourced and how that can work in practice. I am full of ideas and always aim to make your life easier, more efficient and more successful.